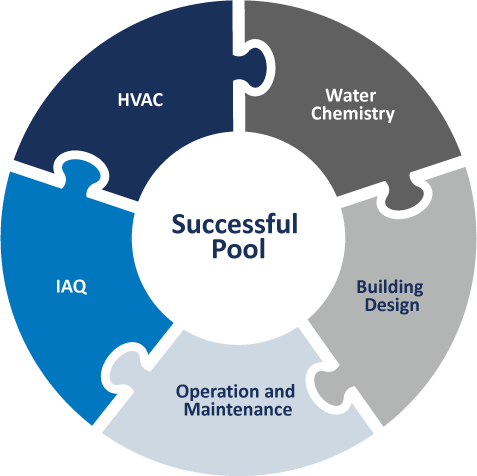 The know-how and experience to provide a first-class indoor pool experience exists today. There are hundreds of successful indoor pools currently operating in North America. 
Resources are available to help guide and educate indoor pool designers, operators, and owners. In 2019, ASHRAE created a new chapter in the design handbooks dedicated to indoor pool design. The CDC's Council for the Model Aquatic Health Code (CMAHC) is also actively working to provide better guidelines on indoor pool design and Indoor Air Quality (IAQ).
A first-class indoor pool experience should be everyone's expectation. Fortunately, it is absolutely possible to provide a safe, healthy, comfortable indoor pool environment, all while keeping operating costs at a minimum.
There is no "one thing" that will ensure a successful pool. Many things need to come together during the design and then during operations. 
This puzzle helps illustrate the key factors needed for success. It is a coordinated effort. A proper design sets the stage for continued success for operation and maintenance.  
The building itself also needs to be designed suitable for a higher temperature and dew point application. An indoor pool environment is different from traditional conditioned spaces and needs to be designed appropriately.
The building, HVAC system, and all equipment must perform reliably, day in and day out, ideally with minimum energy consumption, no matter the ambient temperatures or level of pool activity.
This guide is the culmination of decades of experience from a multitude of contributors and partners. We have seen first-hand what works and what doesn't. This guide offers best practice advice based on what we have seen work successfully. While there are many details that need to be addressed, a great indoor pool environment should be something everyone expects, without compromise. While bad IAQ ultimately stems from water chemistry issues, there are things that need to be done on the HVAC side to provide the best possible comfort and air quality. That's why we created this Natatorium Design Guide.